As WordPress developers, we have the opportunity to work with a diverse range of clients, each with their unique needs and goals. One of our recent projects involved redesigning the website for Lake Huron North (LHN), a network of organizations dedicated to improving water quality in the Algoma District area of Lake Huron's North Channel. This project allowed us to leverage our expertise in WordPress development and design to create a site that not only met the client's needs but also contributed to a cause that is crucial for our planet.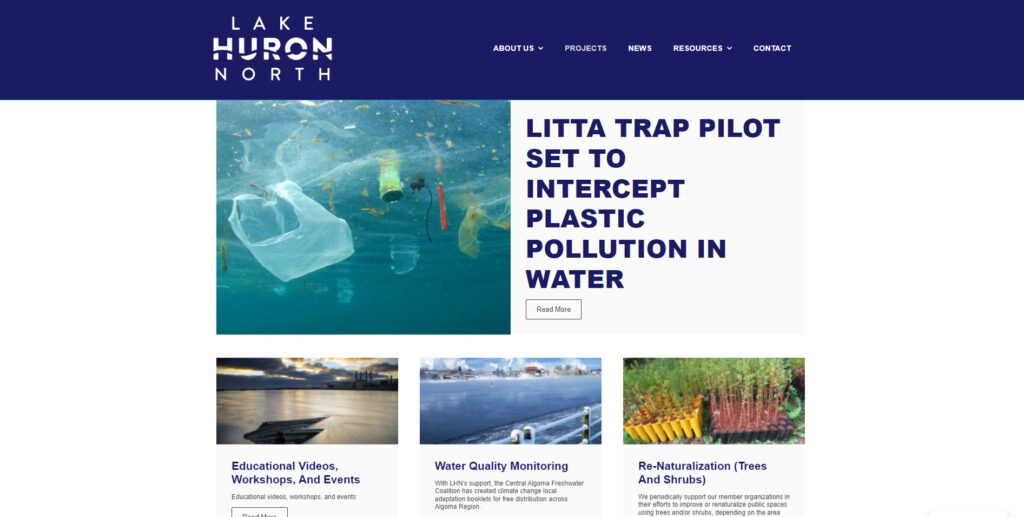 Lake Huron North's mission is to improve water quality through collaboration and community-based stewardship. They work with local community groups, volunteers, landowners, and public services to protect and improve water quality and habitats around the St. Marys River and West North Channel of Lake Huron. Their old website was not effectively communicating this mission or the impact of their work. They needed a new website that would clearly convey their goals, showcase their projects, and engage more people in their cause.
The WordPress Development Process
Using WordPress and Elementor Pro, we set out to create a website that would serve as a hub for LHN's stewardship efforts. The new design focused on user experience, making it easy for visitors to learn about LHN's work, get involved, and stay updated on their latest news and projects.
One of the key features of the new site is the Projects section, which highlights LHN's initiatives like the LITTA Trap Pilot project aimed at combating plastic pollution in local waterways. Each project page provides detailed information about the initiative, its impact, and how people can contribute.
The Results
The redesigned Lake Huron North website now effectively communicates the organization's mission and work. It serves as a platform for engagement, education, and collaboration, helping LHN reach more people and increase their impact.
In 2021 alone, LHN's partners collaborated to improve a significant amount of habitat, plant numerous trees and shrubs, restore shoreline, and reach many people. These achievements are now prominently displayed on the website, showcasing the tangible results of their efforts.
Leveraging WordPress Development for Impact
With our expertise in WordPress development, we were able to transform LHN's online presence to better serve their mission. This project underscores the power of WordPress design in creating websites that are not only visually appealing but also functional and impactful.
If you're looking for a WordPress developer to help you create a website that effectively communicates your mission and engages your audience, we'd love to hear from you. Let's leverage the power of WordPress to make a difference together.